The Breton Waste Management Facility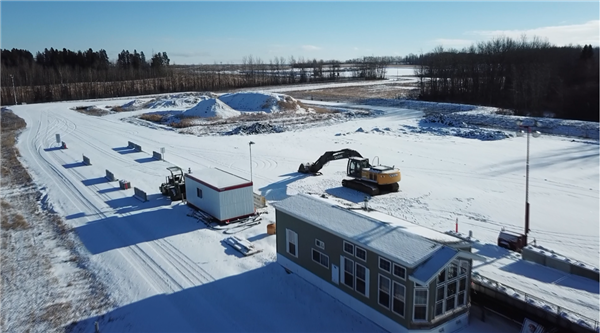 The Breton Waste Management Facility

Breton Soil Treatment Facility
Prudent oil and gas producers realize that traditional methods of oilfield waste management do not provide long-term liability protection and costs for proactive solutions can be excessive. On this premise, the Breton Soil Treatment Facility (BSTF) was constructed and is operated by RemedX. The AER approved BSTF facility is solely dedicated to the treatment and recycling of contaminated soil and invert cuttings on a commercial basis. Once soil and cuttings are treated they can be reused which eliminates corporate liability associated with other less environmentally proactive methods.
The BSTF directly addresses those issues while providing our clients with a number of distinct advantages, including:
●Cost effective, conserves soil and is a proactive approach to contaminated soil management;
●Treated soil becomes an asset that can be reused at site or at locations within the producing field;
●Ideal for multi-site, multi-year reclamation programs (contaminated material from the first season used as fill in the next);
●Soil is treated to eliminate contamination to below acceptable levels for reuse;
●A remediation option that promotes true 'Waste Minimization' and 'Resource Recovery'
●Client receives regular updates, analytical review and advice, as requested;
●Generator maintains ownership of material, minimizing the liability of site. Sites remain tidy with no yearly maintenance.
●Options to combine treatment and disposal programs
Breton Class II Landfill

The addition of a Class II Industrial Waste Landfill to our facility provides area oil and gas producers and industrial customers with an environmentally responsible, solid waste disposal solution in conjunction with the soil treatment/recycling services we currently provide.
Modern industrial landfills are integral components of waste management systems by ensuring waste materials do not enter ecological systems as pollutants. Through sophisticated engineering, stringent monitoring requirements, and effective regulation, industrial waste landfills developed today play a critical and positive role in waste management strategies, leading to secure environmental management of waste, while contributing economically and socially to their local communities.
Our landfill holds an AEP approval and has been constructed to exceed environmental standards to ensure responsible and safe disposal of Class II wastes. Waste accepted by our Breton Class II Industrial Waste Landfill include:
●Hydrocarbon contaminated soils
●Drilling mud/cuttings
●Construction & Demolition wastes
●Site remediation/reclamation materials
●Non-hazardous industrial wastes