Pulping and Papermaking Clean Production
In this field, we have provided our solutions and services for more than ten countries and regions, including Indonesia, India and China. We have totally provided over 30 chlorine dioxide preparation systems by reduction method and integrated method with the maximum capacity of 35t/d and minimum of 3 t/d. At present, the enterprises with our products have produced over 15,000,000 million tons of bleached pulp. The total AOX emission reduction is over 30000 tons.
1.Reduction Method——10t/d Chlorine Dioxide Preperation Project for India Kuantum Paper Co, Ltd.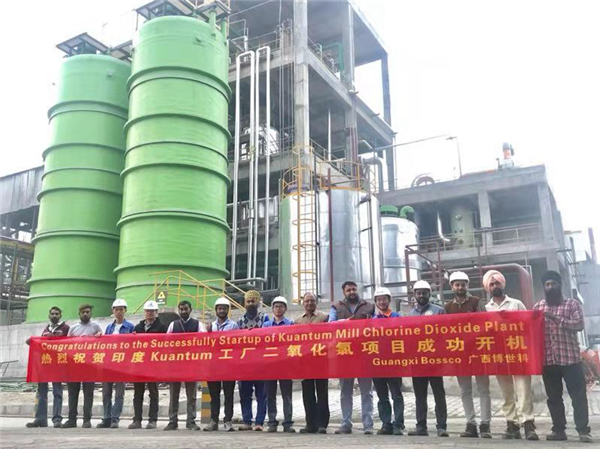 Sodium chlorate as oxidizing agent and methanol and hydrogen peroxide as reducing agents react with sulfuric acid at certain conditions to produce chlorine dioxide gas, which is cooled and then absorbed with chilled water to produce chlorine dioxide solution. The by-product acidic salt cake is recycled. The preparation process and bleaching process are clean. The capacity of 10t/d meets the demand of 180,000 t/d pulp bleaching and realizes the pulp sales revenue of 0.81 billion yuan/y.
2.Integrated Method——35t/d Integrated Chlorine Dioxide Preparation Project for Indonesia APP Group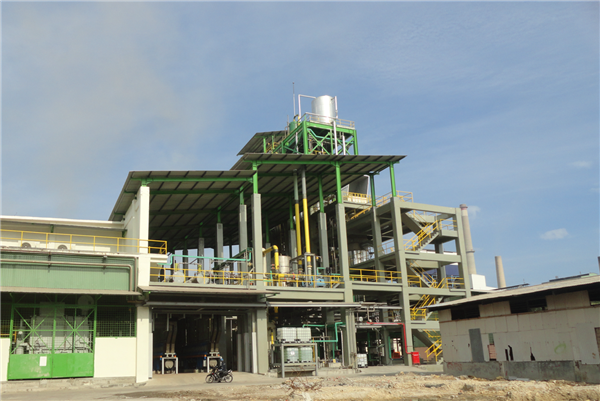 Compared with mathanol-based method, the integrated chlorine dioxide preparation technology is more complicated in process and stricter in equipment performance and interlock control, which has been the technical high ground in this field. No more than 3 suppliers around the world can provide this technology independently. We started this project on July, 2014 after deliberate design, testing and technical exchange. 16 months later, this project was completed and put into operation with capacity of 35t/d, which can meet the demand of 1000,000 t/d pulp bleaching and realize the pulp sales revenue of 4.5 billion yuan/y.