Pulping and Papermaking Clean Production
The large scale chlorine dioxide preparation system as researched and developed by Bossco has been successfully industrialized and exported to international markets. It effectively reduces the environment pollution of pulp bleaching and promotes the clean production of papermaking industry. We also developed ancillary chemicals production technologies, such as clean and efficient sodium chlorate, potassium chlorate, hydrogen peroxide, potassium perchlorate, chlor alkali and chlorine consumption products (strong chlorin, bleaching powder and epichlorohydrin), offering strong technical support for the upgrading of papermaking and relevant chemical industry.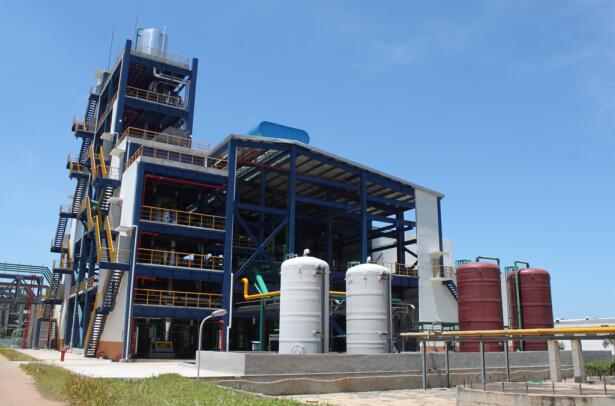 1. Chlorine Dioxide Preparation System with Reduction Method
Sodium chlorate as oxidizing agent and methanol and hydrogen peroxide as reducing agents react with sulfuric acid at certain conditions to produce chlorine dioxide gas, which is cooled and then absorbed with chilled water to produce chlorine dioxide solution. The by-product acidic salt cake is recycled.
This method is preferred for places where chemicals like sulfuric acid, methanol, hydrogen peroxide and sodium chlorate are easily available. The design capacity is 1~50t/d, which can meet the demands for the upgrading or expansion of plants. The features of this technology include:
●(Advanced technology, sophisticated process)
●(Easy operations, fast start and stop)
●(Stable, safe and reliable operation )
●(High degree of automation, easy and simple operation management.)
2. Chlorine Dioxide Preparation System with Integrated Method
Hydrochloric acid as self-made in workshop (reducing agent) reacts with sodium chlorate (oxidizing agent) in the generator to produce chlorine dioxide gas, which is cooled and absorbed to produce chlorine dioxide solution. The by-product sodium chloride (NaCl) in the generator returns to the electrolyzer system to produce sodium chlorate (NaClO3) after electrolysis for recycling use. The by-product hydrogen gas in the electrolyzer and the produced chlorine gas in the generator react with each other in the hydrochloric acid synthesis unit to produce hydrochloric acid (HCl) for recycling use.
This method is preferred for places where electricity supply is insufficient and chemicals are difficult to transport. The unit design capacity is (3~50t/d). The features of this technology include:
●(Low running cost, producing chlorine dioxide with only electricity and small amount of chlorine.)
●(Green and environmental friendly, free of wastewater drainage and other by-products)
●(Stable operation, flexible capacity adjustment)
●(High degree of automation, easy and simple operation management.)
●(Sophisticated and stable process, safe and reliable system.)